This sample-set allows you to play – with a single keyboard or an organ console connected to your computer – with sounds coming from a french historical organ of the XIXth century.
Download
Virtual organ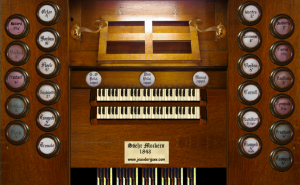 About the organ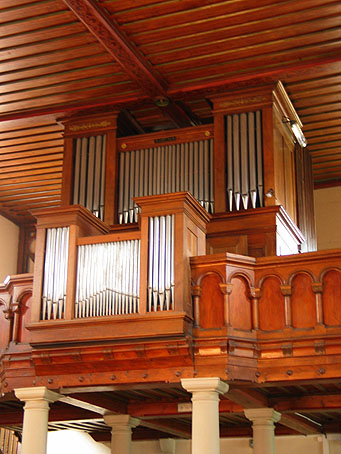 Stiehr and Mockers were famous organ builders who lived in XIXth century in Alsace (France). This organ was built in 1843 for Romanswiller.
The recording session was done on Sept. 30th 2000 on the Stiehr-Mockers organ of Romanswiller, without any modification of the original sound.
Organ composition
Grand-orgue
54 notes
Positif de dos
54 notes
Pédale
27 notes
Bourdon 16′
Bourdon 8′
Soubasse 16′
Montre 8′
Prestant 4′
Flûte 8′
Bourdon 8′
Nasard 2'2/3
Prestant 4′
Salicional 8′
Doublette 2′
Trompette 8′
Octave 4
Tierce 1'3/5
I/P
Flûte 4′
Cymbale 3 rgs (1/2′)
Doublette 2′
Hautbois 8′
Cornet 5 rgs (D)
Fourniture 3 rgs (1′)
Trompette 8′ (B+D)
II/I
Other formats
Jeux d'orgues 2 – Stiehr-Mockers (GrandOrgue / MyOrgan)
Jeux d'orgues 2 – Stiehr-Mockers (jOrgan) (updated version by Paul Stratman on this page)
Jeux d'orgues 2 – Stiehr-Mockers (SoundFont)
Jeux d'orgues 2 – Stiehr-Mockers (VST)
Jeux d'orgues 2 – Stiehr-Mockers (GigaStudio / LinuxSampler)
Jeux d'orgues 2 – Stiehr-Mockers (Logic Pro X EXS24 sampler) (see also this page)
Jeux d'orgues 2 – Stiehr-Mockers (vSampler)
Jeux d'orgues 2 – Stiehr-Mockers (Korg Kronos)
Jeux d'orgues 2 – Stiehr-Mockers (Yamaha PSR-S770/970 & Tyros 5)